Every year we meet new web design trends. 2017 continues general web design trends of 2016 and also has new ones. New web designs tend to be simple, bright, geometric, patterned, big etc. Also, 2017 web designs tend to have animation, video, audio and 3D. So, now websites look more simple, vivid and are not overloaded with useless information. There is nothing new under the sun and all these trends are well known.
Big and bold typography
Typography is the most outstanding part of the design. Since the 2016 year typography is growing bigger and bigger. More and more new web designs have bold and big typography for homepages. This style is very good for simple and minimalistic websites. New web design trends go to keep web design simple and catchy. This web design trend solves the problem of the info overload. Actually, this is not the only one "giant" web design trend of 2017.
Thanks for image
Hero image
The other "giant" web design trend is hero image. Large objects do not dominate just in text elements, but also as background trend. The large background image is the latest trend and has its name hero image. This web design trend also refers to the minimalism, because we have just one big banner, so we keep out of images overload.
Bright colours
One more web design trend is bright colors. So, all the websites look very bright and vibrant. These bright colors at sight catch attention. Actually, as I see the main aim of all web design trends in 2017 is to keep the website simple and catchy. Basically, we need web development to inform our clients or to sell something. As a rule, the most important part of the whole web development may be just one simple CTA button. So, minimalistic and catchy web design is the best way to provide quality service and have the most efficient and clear website for customers. Also, I want to add that bright colors in web development can be used for typography (because rich bold typography is one of the trends in 2017, which should be filled and bright color is good filling) and for background. Just have a look at the Instagram icon on your smartphone, what do you see? Bright colors. And here we see the next web design trends. This is color transition.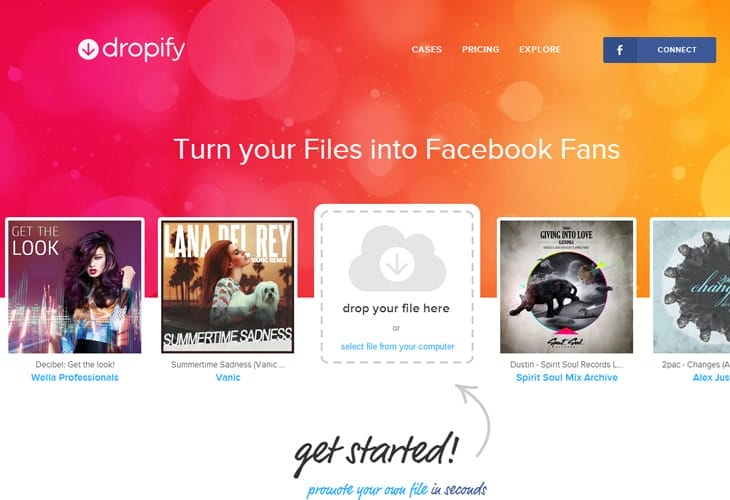 Thanks for image
Color transition
The following web design trend is color transition or gradient. The gradient is widely used both in typography, for backgrounds or as a photo effect. The major web design trend "giantism" affected the color transition too. You wonder how could giantism affect the color. I'll explain. Gradient is not the very new web design trend, but heretofore gradient in web development was subtle. Now subtle color vibrations were replaced with expressional colors and gradients.

Thaks for image
Minimalistic design
At that time, when we have so wide range of bright colors, color transition and sometimes kind of chaos in web design trends, the very prominent trend is still minimalistic design. So, in the end, all this so called "chaos" is always depicted as perfect balance and vibrance. Minimalistic design provides the best user experience. There is higher chance to attract attention to important information because your website has just vital info and there is nothing extra. Here we come to the next web design trend, which helps to grab the attention. These are videos, animations and other vivid effects.
Thanks for image
Video and animation
It's not a secret, that lots of people are tired of reading and they prefer to watch videos. So, these web design trends (animation, cinemagraphs, video and audio)are the most efficient way to deliver important information website visitors. Websites generally are storytelling tools and storytelling can be more effective when visuals and motion are involved so the ideas and emotions can be transferred to the visitor easier. By accenting the attention on the important details you can bring your web development to the next level and give you website spiffy look.
Thanks for image
Responsive design
This web design trend is not even trend anymore, this is necessity for web development. Nowaday number of mobile users surpassed the number of desktop users, so responsive design is the most significant web design trend. Also, Google ranks websites not just as desktop user, but also as mobile user. So, your website must be mobile friendly to get high rank. Responsive design is not the only one way to get high Google ranks, the other one is mobile website. Mobile website is far better for mobile users, because it is developed and designed for mobile devices.
Thanks for image
Material and flat design
Now we can hear just around the corner such terms as material design and flat design. Some people confuse them, but they are not the same. The only common line is minimalism. Flat design is the major Apple brand web design trend. Flat design forces designers to focus more on content, pick the right colors to help users navigate through designs, and use white space with care. Material web design trend is Google's design tool. Google's Material design considers material to be a homogeneous digital "fabric" created with pixels. Users can tap, swipe, or pinch this material fabric and it will move according to user interaction. So, now we get web design trends even directly from big brands such as Apple and Google.
Thanks for image
Sum
All the web design trends are focused on providing best user experience. Web development is more simple and catchy in 2017 and designers are focused more on content.